The Liberty Dollar was originally created by Bernard von NotHaus, and introduced to the public on October 1st, 1998.
At that time, the Liberty Dollar consisted of  One Ounce .999 fine silver rounds that were valued at $10 per ounce, as well as Silver Certificates that were denominated in dollar amounts just like US currency and based on that same valuation of $10 per ounce. He promoted his new currency to everybody, and people began to show interest.
That interest grew until, five years later, the Liberty Dollar had reached a circulation of $5 million dollars. People loved the idea of having money that was actually backed by something of value, and his model of valuing an ounce of silver at $10, despite the fact that the SPOT Price was averaging just a bit below six dollars per ounce. By agreeing to accept the currency at the $10 per ounce base, those who used the Liberty Dollar were able to purchase the money at a discount and spend it at a profit.
Then, in 2003, the Liberty Dollar enjoyed a surge in acceptance when Wayne Hicks in Berryville, Arkansas was able to get almost every business in the area to accept the currency. This created a new business model called the Regional Currency Office model and dozens of people came to Berryville to learn how to get the currency accepted in their own communities. This resulted in an increase in circulation that reached $85 million dollars only three years later.
Of course, that was when the United States government decided that the Liberty Dollar might actually pose a threat to the US dollar, because the US dollar is backed only by the "full faith and credit of the United States." It has no intrinsic value of any kind, and was subject to inflation whenever the money supply exceeded the demand. Because the US government, through the Federal Reserve Bank, could simply create money out of thin air whenever they wanted to spend it, inflation had become a common factor in the lives of most Americans.
Now, suddenly, there was another kind of money that was able to keep pace with inflation. When, around 2005, the price of silver rose above nine dollars per ounce, Bernard von NotHaus simply raised the base from $10 per ounce to $20 per ounce, and reissued certificates and coins on that base. People who had the original $10 base certificates were able to exchange them for the new $20 base certificates, which essentially doubled their spending power.
The model worked. It worked so well that over quarter of a million people got involved and helped to spread the Liberty Dollar throughout the nation. Had it not been for one old Civil War law that had only been used twice before to prosecute anyone, the Liberty Dollar would have been a complete success and would probably have exceeded $1 billion in circulation by now.
Unfortunately, that law — 18 USC 486, which says "Whoever, except as authorized by law, makes or utters or passes, or attempts to utter or pass, any coins of gold or silver or other metal, or alloys of metals, intended for use as current money, whether in the resemblance of coins of the United States or of foreign countries, or of original design, shall be fined under this title or imprisoned not more than five years, or both." — gave the government the authority they needed to attack both Bernard and the Liberty Dollar. Bernard was arrested and charged with counterfeiting, despite the fact that his money was quite different in appearance from US money, and was ultimately convicted under the law just cited. His issuance of silver coins–and particularly those that were issued after the government had declared them contraband–the judge ruled, did violate that particular law.
Bernard's silver certificates, the judge ruled however, were perfectly lawful. Whether they were in digital or paper form, they constituted a type of document known as a "warehouse receipt," and warehouse receipts have a long history of being used as negotiable instruments even in common law, before the United States code was ever written. The laws of the United States and of virtually all nations specifically permit warehouse receipts to be used as negotiable instruments, and they are commonly used as collateral for loans. This means that the paper money or digital money that Bernard issued did not violate any laws, and Bernard is still redeeming some of those old silver certificates to this day. People contact the Liberty Dollar Financial Association (because we have the same toll-free number that was used back then) and we tell them how to reach out to Bernard in order to redeem their silver certificates.
In 2018, on the 20th Anniversary of his introduction of the original Liberty Dollar, Bernard asked Wayne Hicks and his wife Kathy to help him bring back the Liberty Dollar and its principles of Sound Money. Kathy agreed to take on the management of the operation, and Wayne began developing a new model to put Liberty Dollars once more into circulation.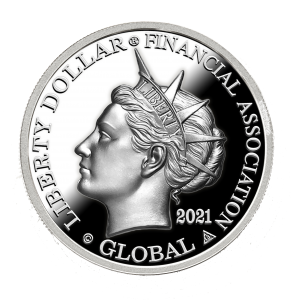 There have been a few twists and turns on that road, but now at last, the Liberty Dollar is back and once again gaining new fans every day. The Liberty Dollar Financial Association is operated as a Private Membership Association, which means that it contracts privately with all of its Members to provide them with this silver-backed private alternative currency, lawfully and legally.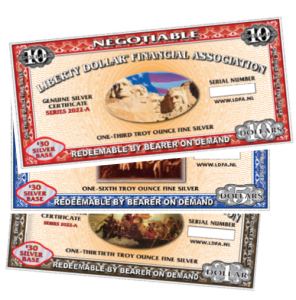 LDFA's new model  offers both Digital and Paper Warehouse Receipts, which are the actual Liberty Dollars, and one Troy ounce bullion coins for those who like to hold their silver in their own possession. The silver coins, of course, are not denominated or intended for use as any kind of money; that is restricted to the Warehouse Receipts.
Using the Liberty Dollar is purely voluntary, but with so many features being offered by LDFA, it's almost a no-brainer. Anyone with an LDFA account can buy or sell using the website, a smartphone app or the paper currency itself, and can even convert it back to US dollars when necessary. The organization even offers a bill-payment service, mailing a check and deducting the value from the silver in your account, and there are other services that appeal to Members, as well.
Becoming a Member is free and easy; it's even easier than opening a bank account, but don't think you can pull the
wool over their eyes. Kathy and Wayne have already proven they can spot a fraudulent account long before it manages to rip them off, and they are always diligent about verifying accounts and transactions if anything looks even slightly off.
Feel free to check out the Liberty Dollar Financial Association and consider if using Liberty Dollars might be something you would benefit from. Just visit the link you were given by the person who sent you to this site and check it out. We think you'll  be glad you did.
Also, check out the available PDF files. You can read them online or print them out. Be sure to print out the Merchant Handouts, and put your referral link on the back of each one,. give them to your customers and you'll end up with more referrals and more regular customers bringing Liberty Dollars to spend with you!