Why Should You Use Liberty Dollars?
You've probably reached this website because a local Merchant who accepts Liberty Dollars has told you about them and suggested you give them a try. Now it's up to us to explain a bit more and let you know how to use Liberty Dollars to save money and beat inflation!
Liberty Dollars are a private alternative form of money that is available only to Members of the Liberty Dollar Financial Association. The Liberty Dollar is paper and digital currency that is fully backed by .999 Silver. Membership in the Association is free, and brings with it several benefits that our Members enjoy.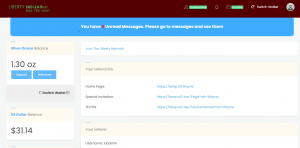 When you fund your account with LDFA, you are literally buying silver, which is then held for you in one of our private or contracted warehouse facilities. The digital Warehouse Receipts we give you are a means of keeping track of your silver and its Value in US Dollars.
With the digital Warehouse Receipts, you can watch the SPOT price of silver and see your dollar value grow as that price rises along with inflation. In actual practice, you'll see it rise and fall at times, but SPOT is trending upward now, and that means that, overall, you won't lose spending power to the ravages of inflation that is currently making the dollar weaker and weaker.
From your account, you can do several things. For example, you can use our Bill Pay service to pay bills directly from your account. We simply print out a check made out to whoever you designate and mail it to them on your behalf, deducting the amount of the check from your account.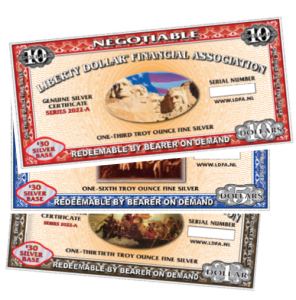 You can also redeem the silver itself, if you want to have it stored in your own possession, or you can order paper Liberty Dollars to use like cash with your local Merchants who accept them.
In addition, your digital Warehouse Receipts can be spent with other Members and Merchants, either through the website or with our smartphone app. The app acts like a Point-Of-Sale system, so that when you pay the Merchant by entering the amount you want to transfer to him or her, it happens instantly and the Merchant will br notified that the payment was received.
Liberty Dollars are based on silver at $30 per ounce, but our Members get them for only $27 per ounce. This means that just by spending them with your local Merchants, you are gaining an extra ten percent in your spending power. And when silver's SPOT price rises above $27, we'll increase that base to $50 per ounce and you'll be able to get them at an even deeper discount! Imagine trading $40 US Dollars for $50 Liberty Dollars that your local Merchants will gladly accept! That's an automatic 20% increase in your spending power, so we're all looking forward to that increase!
With the current government plans to eliminate cash and go to an all-digital currency that allows them to track every purchase you make, having Liberty Dollars circulating in your community means /maintaining a level of privacy while also keeping more of the wealth of your community local. The "Big Box" stores won't take them, so you'll be supporting the local merchants who are your friends and neighbors! Instead of seeing all the local money whisked away to some foreign bank by the Big Stores, it will be staying in the community, going to merchants who will then give it back out in change, so it can be spent there again and again! This is how we protect our local communities from the damage that inflation is doing to all of us!
Being a Member of LDFA also brings you ways to earn extra money. For instance, we have a referral program that pays 3 levels deep. You'll get a small commission from every fee we earn from anyone you refer, and anyone they refer, and anyone they refer! These commissions are small, but if you have a lot friends and family you can introduce to Liberty Dollars, it can add up to several extra Liberty Dollars in your account each month.
If you make or sell anything, you can also add it to our Liberty Dollar store on the website, so all of our Members can see it and buy it directly form you with Liberty Dollars! We have some fantastic deals on that store, so you'll probably ant to order a few items yourself every month.
There are a lot of ways that being a Member of LDFA will benefit you, and these are just a few of them. Why not visit the main website and check them out? Just follow the link on the back of the card you were given, or if you found this site another way, just go to https://ldfa.nl and sign up for free!
And remember… With Liberty Dollars, you can put your money back on the Silver Standard!